It's just sad we have to face it.
After Wednesday's coup attempt at the Capitol, The Lincoln Project re-released an ad they originally released last May.
Remember: these are Republicans who made this ad and who felt the need to address it again because of this Trump-led insurrection.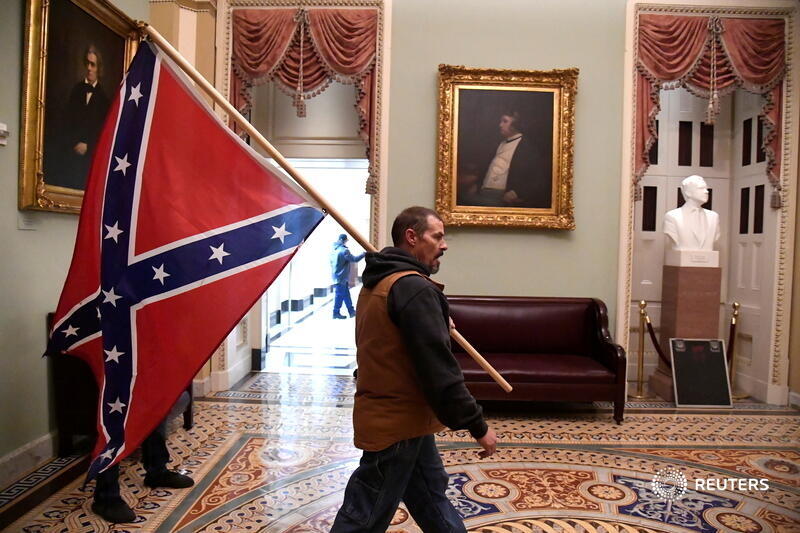 Photo by Reuters.
That flag was carried into the House of the People Wednesday as a source of pride and ownership and at the direct invitation and encouragement of Donald Trump.
It is simply wrong and indefensible.
This article, 'IT HAPPENED IN AMERICA" from Foreign Affairs (subscription may be required – but it is so worth it) puts it into perspective:
"Elections are the heart of liberal democracy. Losers voluntarily leave office. Winners assume rightful power. Yet the world just witnessed the stunning sight of a mob storming the U.S. Capitol to reject the legitimacy of President-elect Joe Biden's victory, driven by President Donald Trump's delusional lies about a stolen contest."
"Rioters scaled scaffolding, broke through windows, and stormed the halls of Congress. They strolled through the Hall of Statues with a Confederate flag fluttering over their shoulders, brandished weapons on the floor of the Senate, and propped their feet up on Speaker of the House Nancy Pelosi's desk."
"One woman was shot and killed.*(NOTE: since this was published, 4 other people have died as a result of this coup, including a member of the Capitol Police who was hit with a fire extinguisher and has died.)"
"Members of Congress retreated into lockdown, gas masks in hand. They were forced to suspend the constitutionally required business of formally confirming the victory of the incoming president because of the incitement triggered by the incumbent president. This was an insurrection."
"The experiences of other deeply polarized countries with contentious elections suggest that is easier to destroy trust than it is to rebuild it. But the United States can at least try to do so."
And then there's THIS: "This is America. "This has always been America. If this were not America, this coup attempt would not have happened. It's time we face this ugly truth, let it sink into the marrow of our bones, let it move us to action."
It's time we all step up and do the hard work to keep democracy safe in America.